Do's & Don'ts for your Photography Website
Your personal photography website is the most important marketing thing you have for landing clients. A good website will help you be discovered by Google, it will help people understand what you do and how to get in touch with you and at the end of the day, it will be one of the things that will help you put food on your table.
Since you're reading this article, you will agree that an up to date website is a must for a successful photography business, but as a photographer, you have so much to do – emails to answer, photo shoots to be at, images to edit and all of that takes time. Creating a website and maintaining your website might feel like a chore, but actually, it can be really fun and gratifying once you know exactly what you need to do, so to help you we created a comprehensive DO's and DON'Ts checklist that you can follow to create and maintain your business page online.
1. Website Navigation
Your website navigation is like a map or table of contents that people follow to get around your website. Your task is to take your website visitors by the hand and guide them to the most important pages on your site with ease.
Do:
Take a pen and paper and build out your site structure. What are the most important things on your website? Write them down but try to stick to around five things. A common photography structure that works well looks something like this:
Home
Portfolio
About Me
Blog
Contact
Make sure you keep it simple, short and intuitive.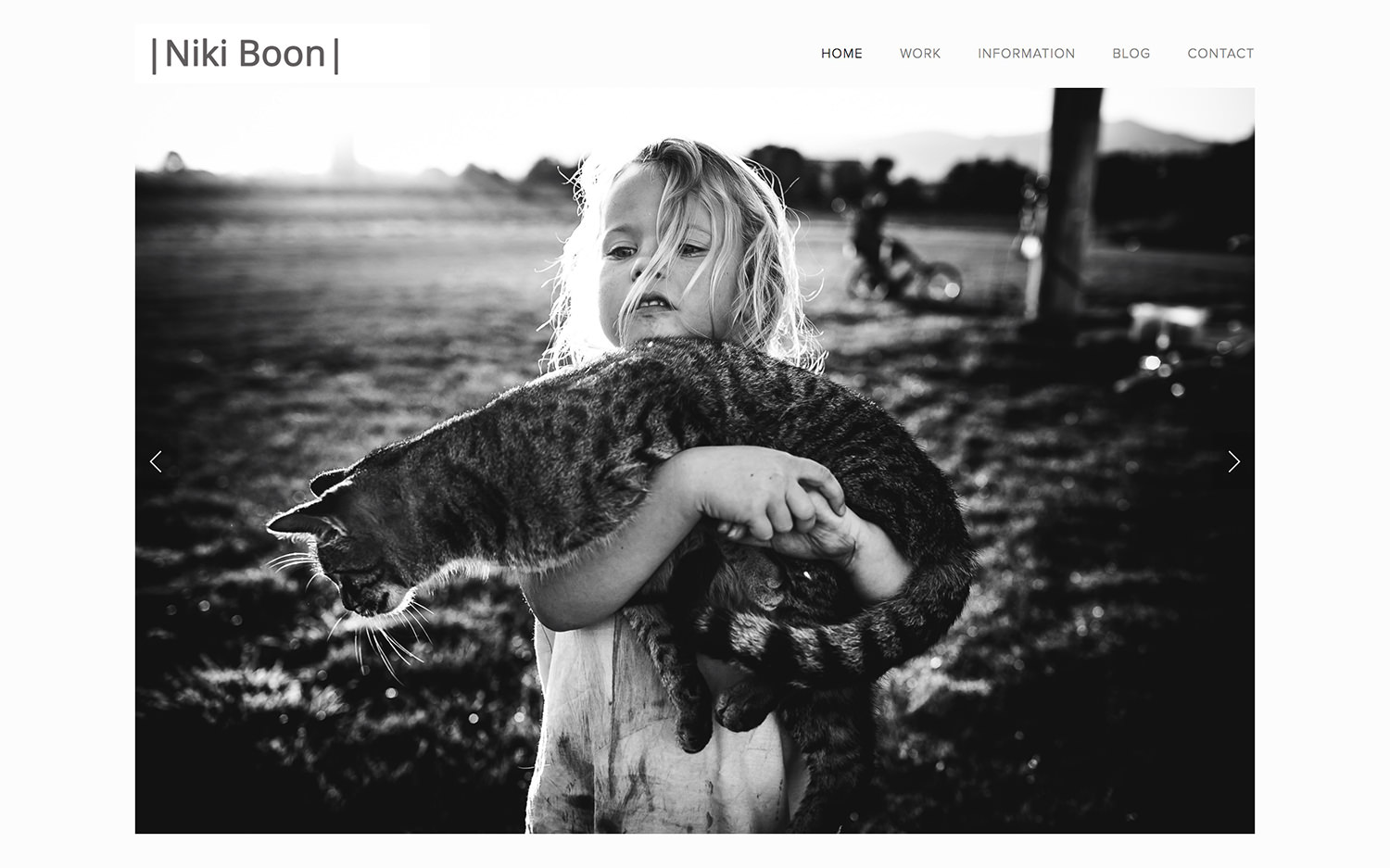 Don't:
Save your creativity for the content, page names should be descriptive and easy to understand. If you have a Blog, call it so, if you have an "About Me" page, don't call it "Behind the camera" or something like that because your goal here is to get people to where they want to go and if you're using uncommon navigation names, you are at risk of confusing and even losing your website visitors.
Even though "hamburger menus" and full-screen, pop-up style menus are a growing trend in the website industry, think twice before following it just yet. Hiding your menu behind a button can be frustrating and confusing for your less techy website visitors. So we suggest sticking to the classic horizontal navigation at the top of the site or down the left side to make sure everyone can see, use, and understand it.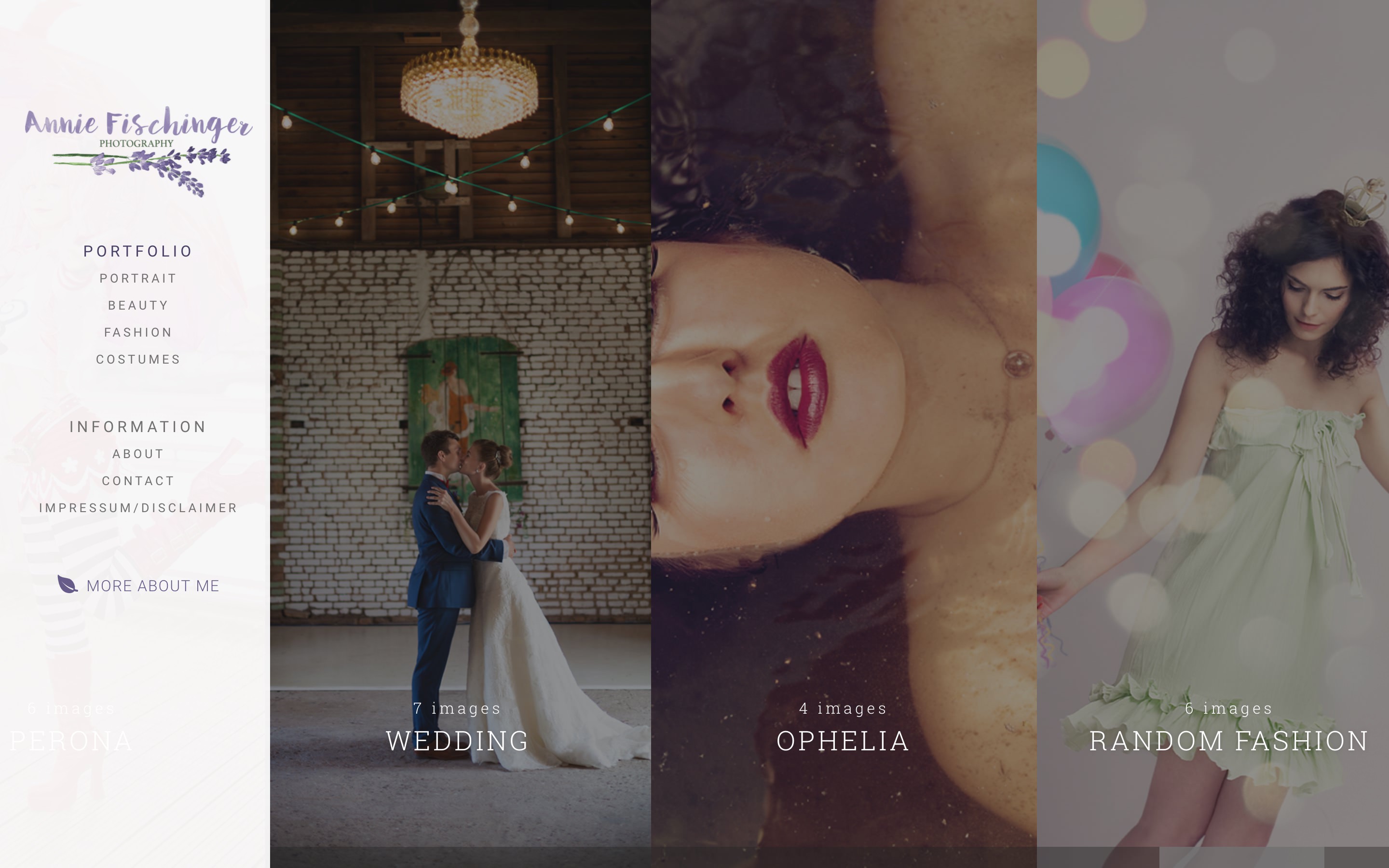 If you're interested in a more in-depth information about the navigation, check out this Kissmetric article.
2. Blog page
A current blog page has tons for positive impacts – it shows that you're active in your field, it's great for Search Engines and it gives you the opportunity to showcase your work in-depth. Google loves sites that provide useful information about any given topic and rewards those who post frequently by showing those posts higher when someone searches for them and that leads to more website visitors which loads to more bookings!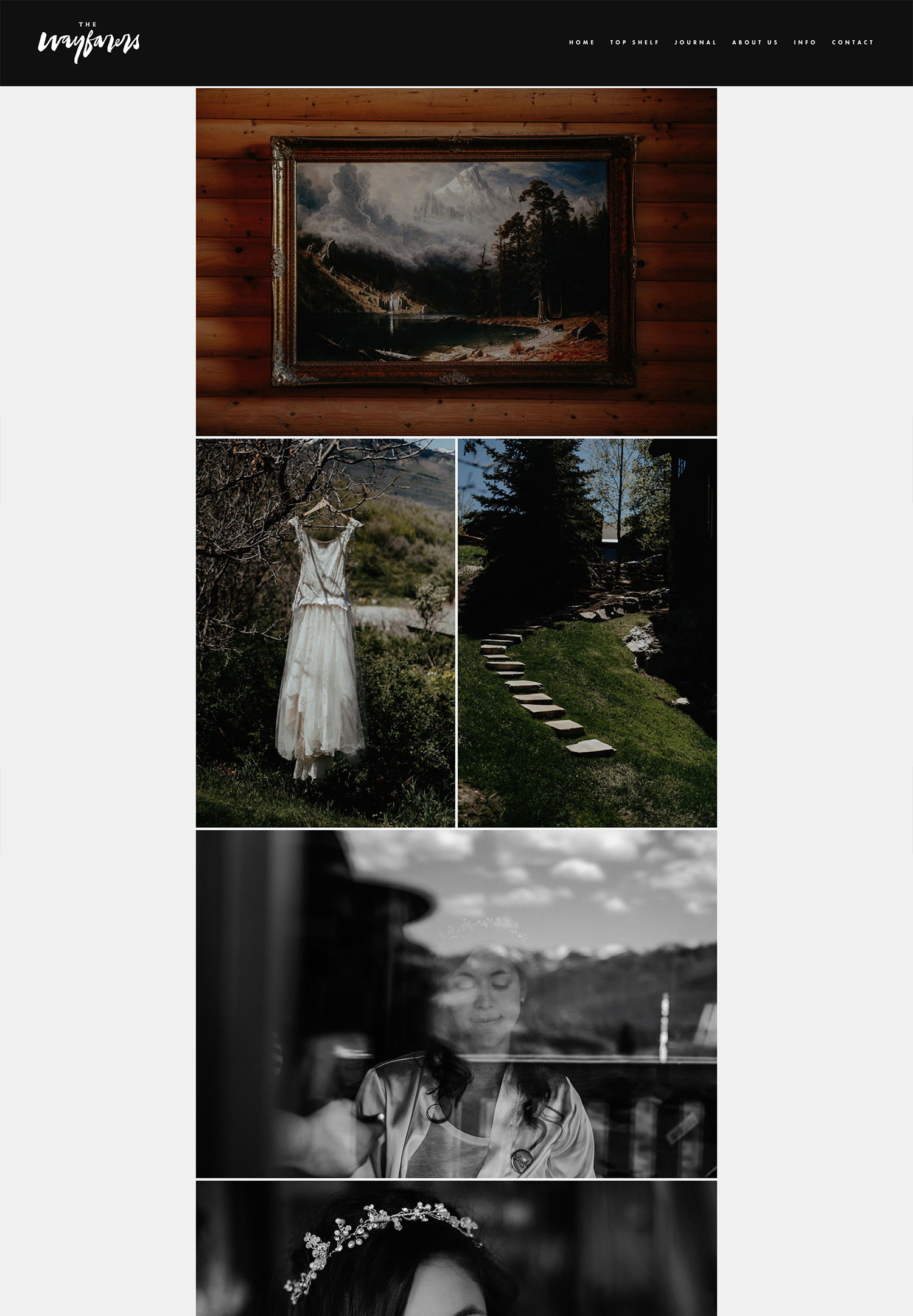 Do:
Use your blog for documenting real photo shoots that you have worked on. If you're a wedding photographer, a good blog post should have around 20 unique photos from one wedding. It should start with photos of the bride getting ready, then some shots from the location, ceremony, guests and all the way to the party.
While your portfolio is where you capture your visitor's attention, the blog with posts like these is extremely important because they help your future clients imagine their photo shoot and see exactly what they'll get if they book you.
Don't:
The moment you start your blog, make sure you update it as often as you can. Nothing is more off-putting than a blog where the latest post is more than 2 months old. This makes it look like you haven't done much work lately.
Tip: if you're super busy and can find the time to update your blog as often as you might like, at least disable the post dates so people can't see exactly when you last posted. This is a dirty method but it will look a bit better than an old post on the front page.
Don't redirect users to a completely different site when they click on your blog. This is super annoying, makes the user question his/her actions, and feels unprofessional. When choosing a design for your website, always make sure that it comes with a blog (luckily all WordPress themes have blog pages, so if you're using WordPress, you're all set).
3. Portfolio
As a photographer, your portfolio page is the most important one on your site because this is where you put your best foot forward, this is where you make people want to have pictures like these for themselves.
You need to make sure your portfolio is set up right, loads fast and is focused on your work.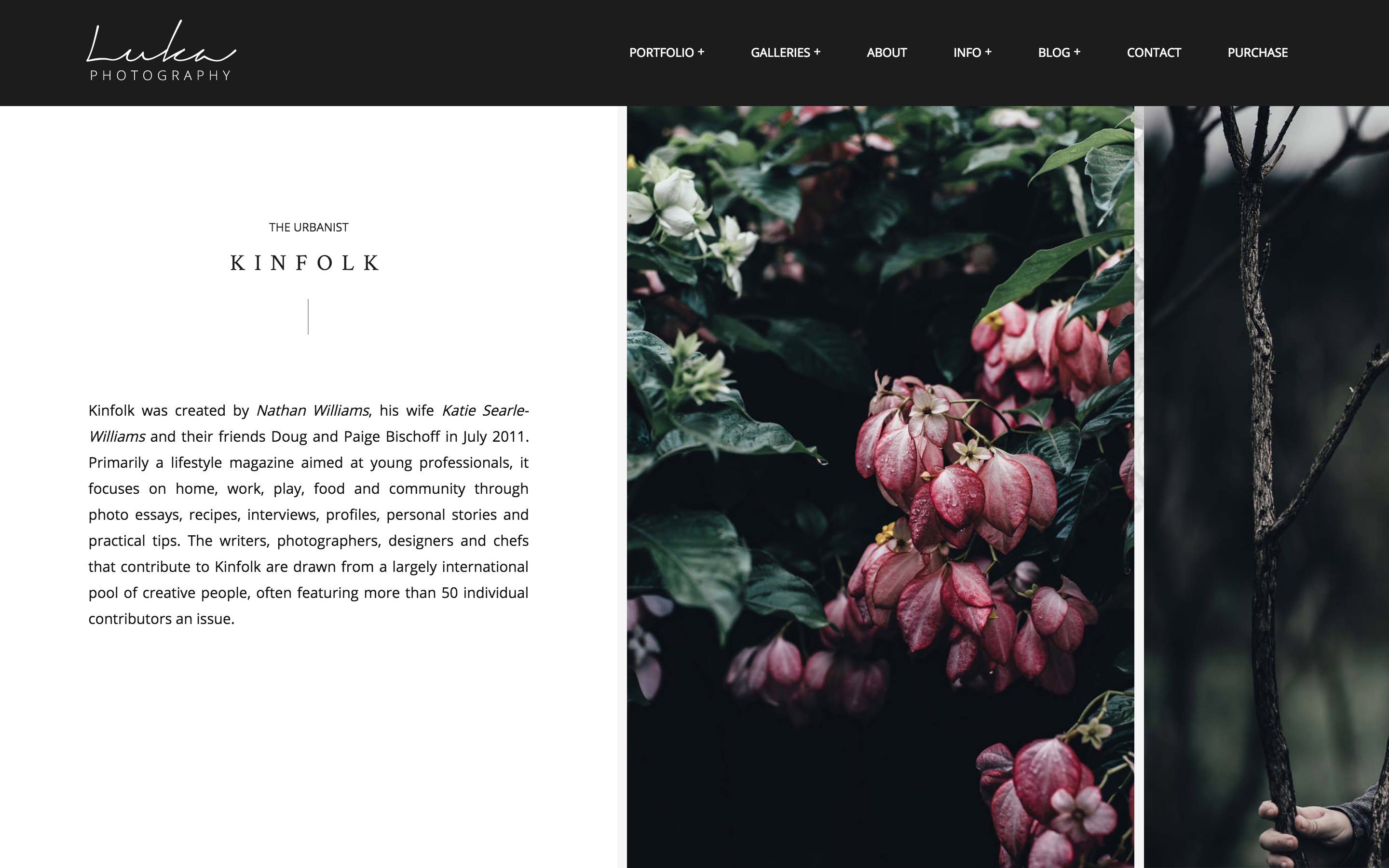 Do:
Make sure you look critically at each image you plan to upload to your portfolio. We suggest that you choose between 8 to 10 of your best images for each gallery.
Optimize your images before you upload them onto your website. You definitely don't want people thinking to themselves: "OH, COMMON! Why is this website so slow!" There are 3 things you can do to make sure your optimizing your site for speed"
Don't:
Don't try to upload all your images for every shoot onto your portfolio. That's why you have your Blog – your blog is for showcasing individual photo sessions, your portfolio is for showing the best of the best.
4. Contact Information
So your website looks stunning, you have great images, everything is well organized and easy to navigate, now you need to help your clients open a conversation with you. Make sure you are easily reached from any place on your website and don't make people hunt for your contact information.
Do:
Make sure you have a "Contact" page in your site navigation. Your contact page should have both a working contact form and your business e-mail address for all other inquiries.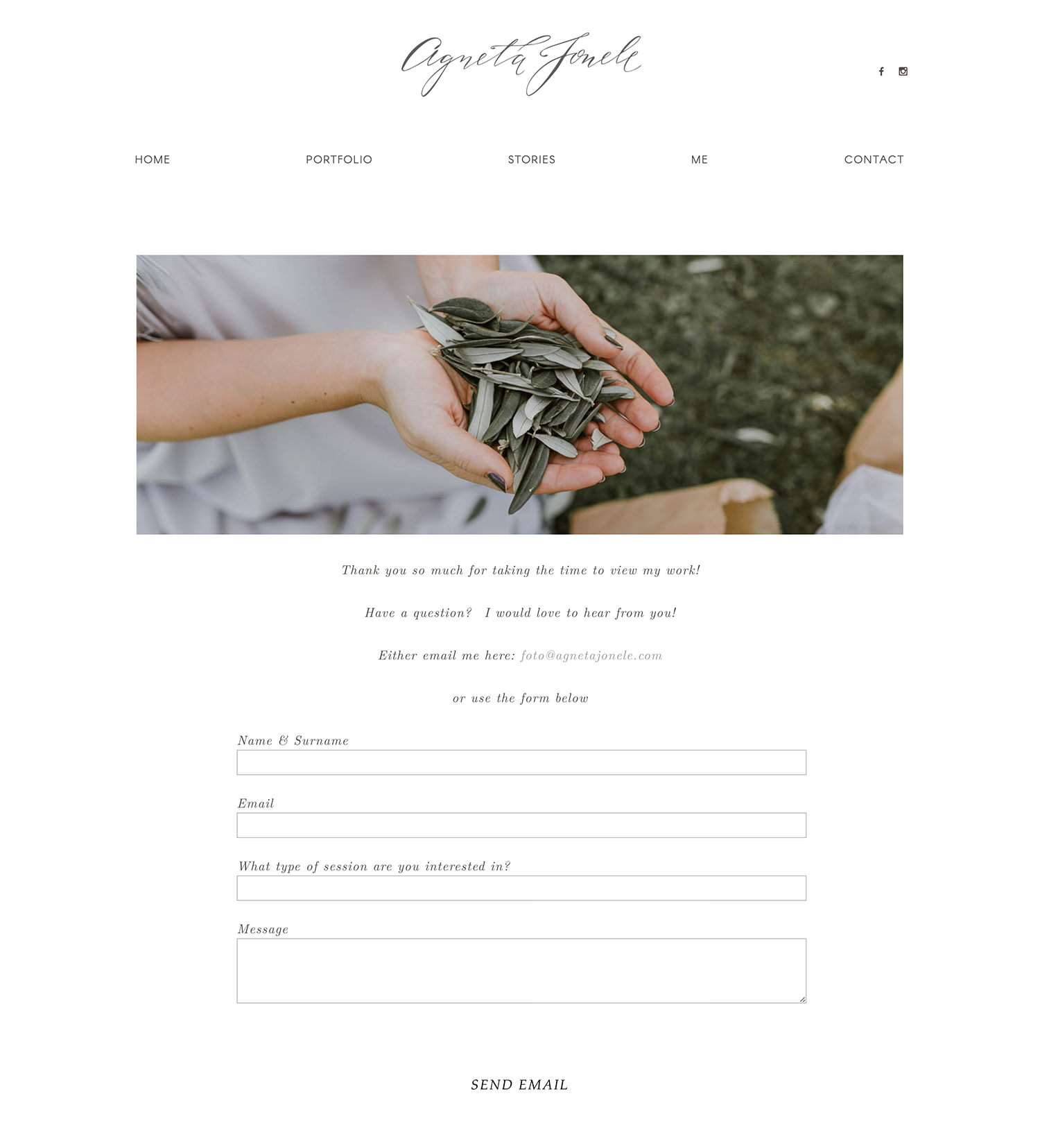 Add a large, but elegant Call-to-Action area with a button that leads to your contact page. A good place for it could be in the footer area. This will work especially well when a client is browsing one of your wedding blog posts and when she gets to the end of the page, there's a "Let me capture your special day" banner that leads straight to your contact form and BOOM you have a new client!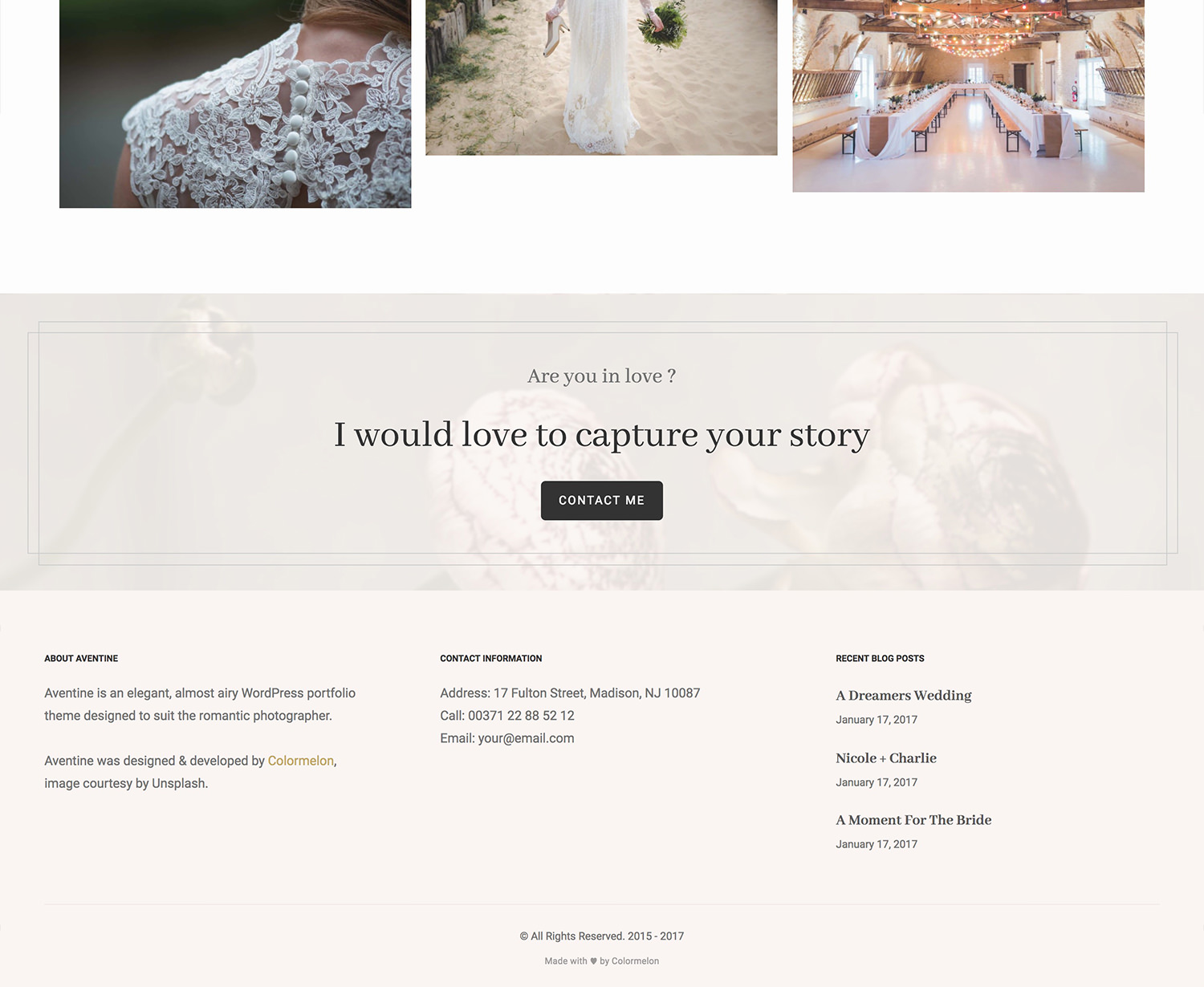 Don't:
Don't group your "Contact" page together with your "About Me" or any other page. I've seen this done way too many times and even if it makes sense in your head, it will not be intuitive for your clients. Contact pages should always have their own page and it should be super easy to find!
Don't create too many fields for your contact form. You might want to add fields like "Location", "How did you hear about us?", "What did you like most about my work?" etc. in your contact form but the more fields you add the higher the risk that your potential client might just give up half way through the form either because they don't have all the answers yet or because they just get frustrated by your questions because all they wanted to do is ask if you are free on that and that day to capture their story.
Tip: Keep your forms short and sweet and if you land a client you will have the opportunity to ask all those things later.
When adding your e-mail address don't do silly things like "jane.doe [ type at symbol here ] gmail [ dot ] com" it looks bad, is unreadable and quite unnecessary. Nowadays email providers are extremely good at detecting spam so you don't have to worry about bots stealing your email address and flooding your mailbox with viagra ads (giggles), those emails will go straight to your Spam box!
5. About/Bio Page
When a client contacts you, you want to know a bit about who they are, right? So it stands to reason that clients want to know about you too. Make sure you have a nice "About Me" page to help your site visitors get to know the person behind the camera.
Do:
Make sure you add a nice and current picture of yourself in your "About" page. People need to see that you're a real person too.
Be friendly and genuine. Tell the readers what you're about both in your personal life and stylistically speaking.
An "About" page is a good place to mention any awards or publications if you have them.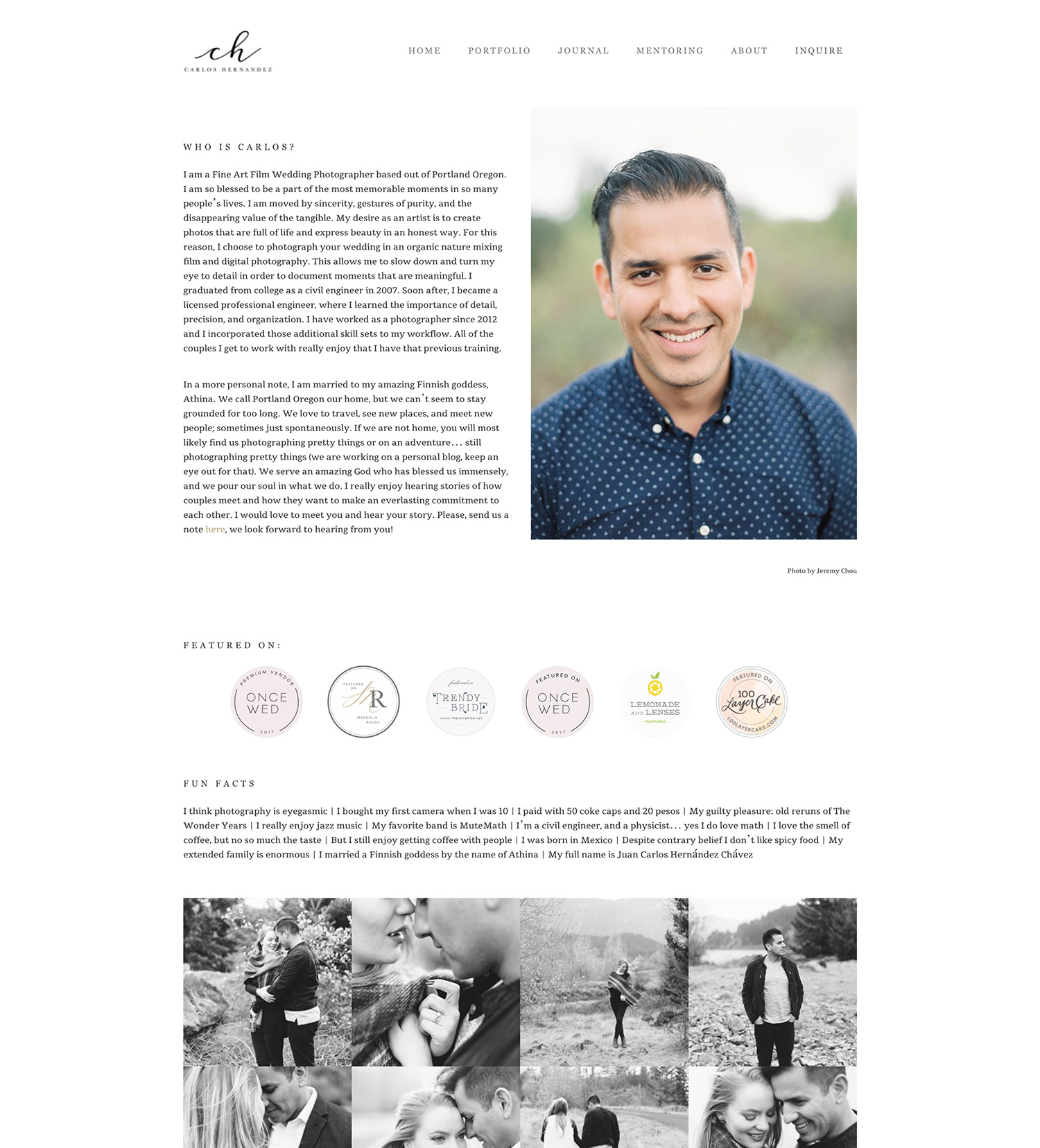 Don't:
Don't forget to tell the readers your name and where you're located.
Avoid writing about yourself in 3rd person, be yourself and use your own words as if you would introduce yourself to someone you just met.
6. Testimonials
Even if your images look great it might not feel legit enough if you don't have any references of testimonials from your previous clients. While you don't necessarily need a whole page just with testimonials, you should include some good words somewhere on your site.
Do:
Create a three question e-mail and send it to some of your previous clients. The e-mail could say that you're collecting reviews for your website and could they please answer these 3 questions for you. The questions could be something like:
Why did you need a photographer?
How did they know that you would be the right one for them?
How was their experience with working with you?
By sending out specific questions instead of just asking for a review you will get more detailed answers that will help your future clients trust and book you.
Don't:
Don't just write what someone said without mentioning their name or without adding at least a photo of the people who said it. This might look fake and you don't want that.
Conclusion
Your website is your storefront and as its owner, you have to make it welcoming and easy to navigate. We hope that this list showed you that it's not actually that hard to get your website orderly. If you're looking for a more in depth information on how to create your perfect photography portfolio, we wrote a great, big article that covers everything from defining a goal for your website to choosing the perfect design and creating each page for your site – check out the "How to make a Photography Portfolio" guide here.