Easy Photography Portfolio – The Ultimate Setup Guide
If you're looking for a simple, elegant and free way to display your photography work in your WordPress website, then look no further because we have a plugin for that! It's called Easy Photography Portfolio.
Recently we took some time off from creating premium WordPress themes for photographers and used the knowledge we've acquired over time to create a free WordPress plugin for photographers. With Easy Photography Portfolio you can create a beautiful masonry style portfolio page filled with your image galleries. The best part is that you can install it in any WordPress theme, including the free themes from WordPress.org. And of course – we're going to use this plugin for all our future themes!
Check out this Easy Photography Portfolio demo site to see how Easy Photography Portfolio plugin looks with the default "Twenty Seventeen" WordPress theme. We've also made a video tutorial of the setup process with Twenty Seventeen.
In this article I would like to show you exactly how to set up and configure your Easy Photography Portfolio plugin:

Need help with the plugin?
If you're already using Easy Photography Portfolio plugin and came here because you need help with it, go to the plugin SUPPORT FORUM.  That's how you'll be able to get in touch with us and get help as soon as possible!
Installing Easy Photography Portfolio Plugin
To install the plugin in any theme you're currently using, follow these steps:
Open your WordPress site admin panel and go to Plugins > Add New
Search for "Easy Photography Portfolio"
Click on the "Install Now" button, wait for it to install and then click on "Activate" button to activate your plugin.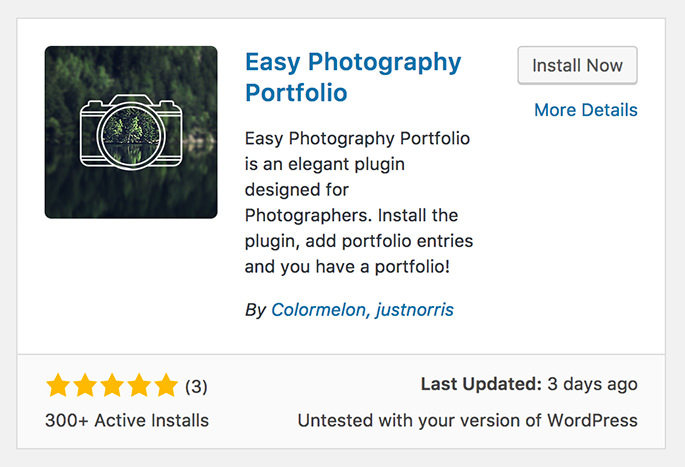 Creating a portfolio page
Before you can start creating the galleries, you need to make sure that you have a Portfolio page created, so that there would be a place for your galleries to show up.
Since version 1.1.3 the plugin will automatically try to create a portfolio page for you.
To make sure that the portfolio page is set up correctly:
Go to Portfolio > Portfolio Settings

Make sure that "Main portfolio page" is set to Portfolio (or Easy Photography Portfolio)
Click the Save button, just in case.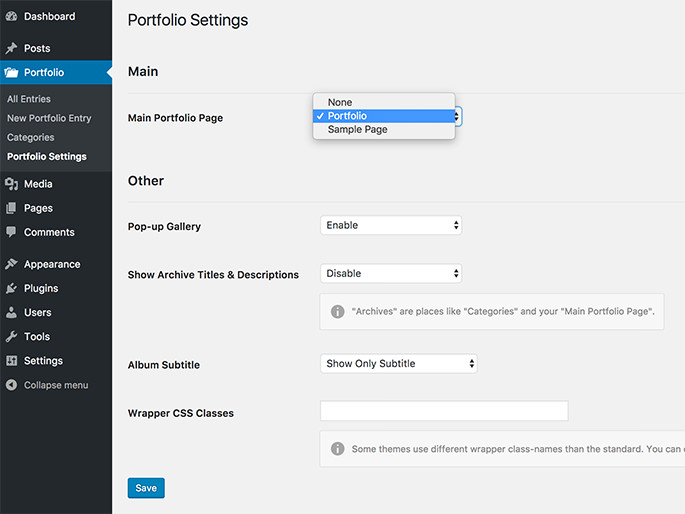 If you want to set your portfolio as your homepage, you can either go to Settings > Reading and set your new "Portfolio" page to be "Front Page".
Otherwise – go to Appearance > Menus and add your new "Portfolio" page to your site menu!
How to create a portfolio gallery
Now that you have your portfolio page assigned, you need to add some galleries to it. To do that go to Portfolio > New portfolio Entry.
Here you will create your first image gallery.
In the title area type in the gallery name
Use the subtitle field if you want to add some extra info about this gallery, but that is purely optional.
The content area you can write something about this gallery, again this is optional and it works just like regular WordPress posts.
Under the main content area, you will see the Photography Portfolio area. Click on the Add Images button to add your gallery images.
Lastly, in the "Featured Image" area upload a cover image that will serve as the main image for this gallery!
Your final result should look something like the image below!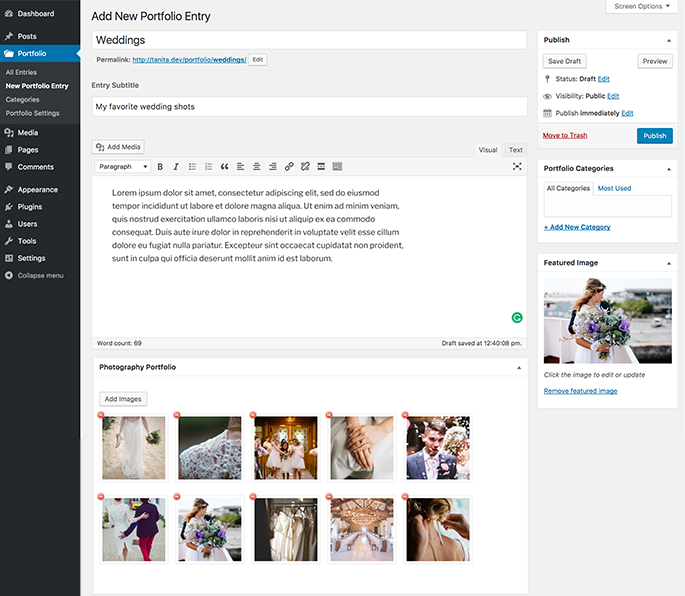 When done, click on the Publish button to make this gallery public! Now your gallery will show up in the portfolio page, that you created previously.
Repeat this process to create as many galleries as you need.
How to create multiple portfolio pages using categories
If you are a photographer, chances are that you have different subject categories that you are working with. It might be that you have wedding images, macro images, portraits, family shots etc. It's a good idea to create multiple portfolio pages and in each page display a specific photography category. Luckily it is very easy to do with Easy Photography Portfolio plugin!
Go to Portfolio > Categories
Create all of your photography categories here (Weddings, Children, Nature etc.)
Now go to Portfolio > All Entries and open up any gallery that needs a specific category assigned to it.
On the right side of your screen, you will see an area called "Categories", choose the appropriate category for this gallery.
Do this for all of your galleries that need a specific category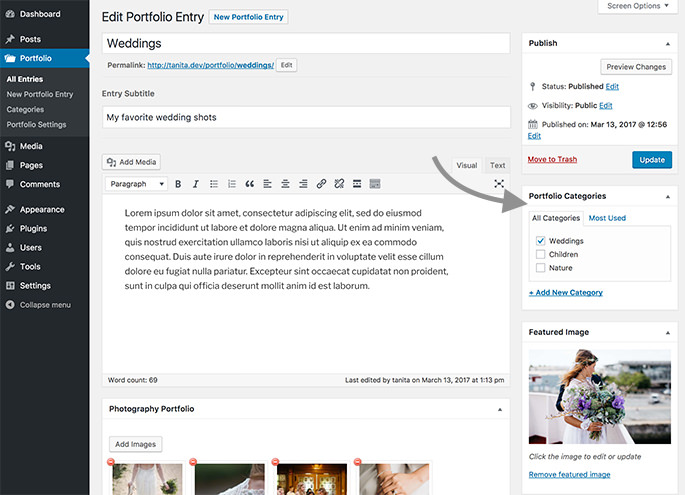 Add category pages to your site menu
When you have created your portfolio categories, you can add them to your website menu so that your visitors can easily find them. To do that, follow these steps:
Go to Appearance > Menus
On the right, top side of your screen click on the "Screen Options" button
Activate "Portfolio Categories"
Now add your portfolio categories to your menu and they will appear as separate portfolio pages in your website.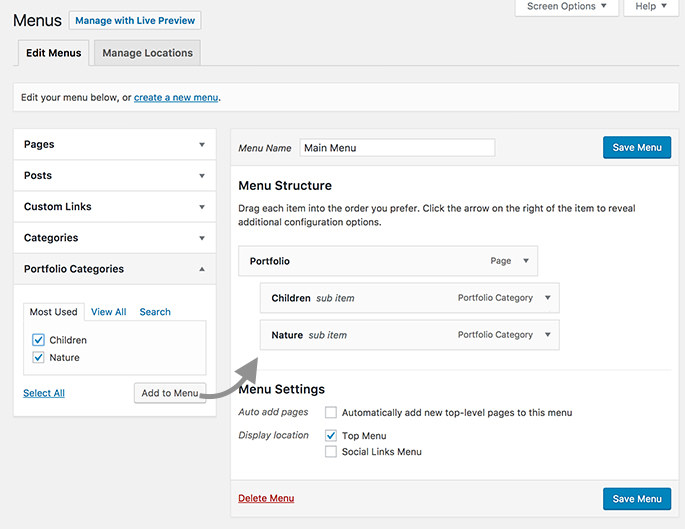 And that's it! You can read more about Easy Photography Portfolio plugin and our thoughts behind it on the official WordPress plugin download page. We truly hope that you will find this plugin useful and if you're like it, don't forget to give it some star love over at WordPress.org!
Custom themes that use EPP plugin
Like the plugin functionality but haven't found the perfect website design yet? We use Easy Photography Plugin in our premium photography WordPress themes so check them out, maybe you'll find your next website design.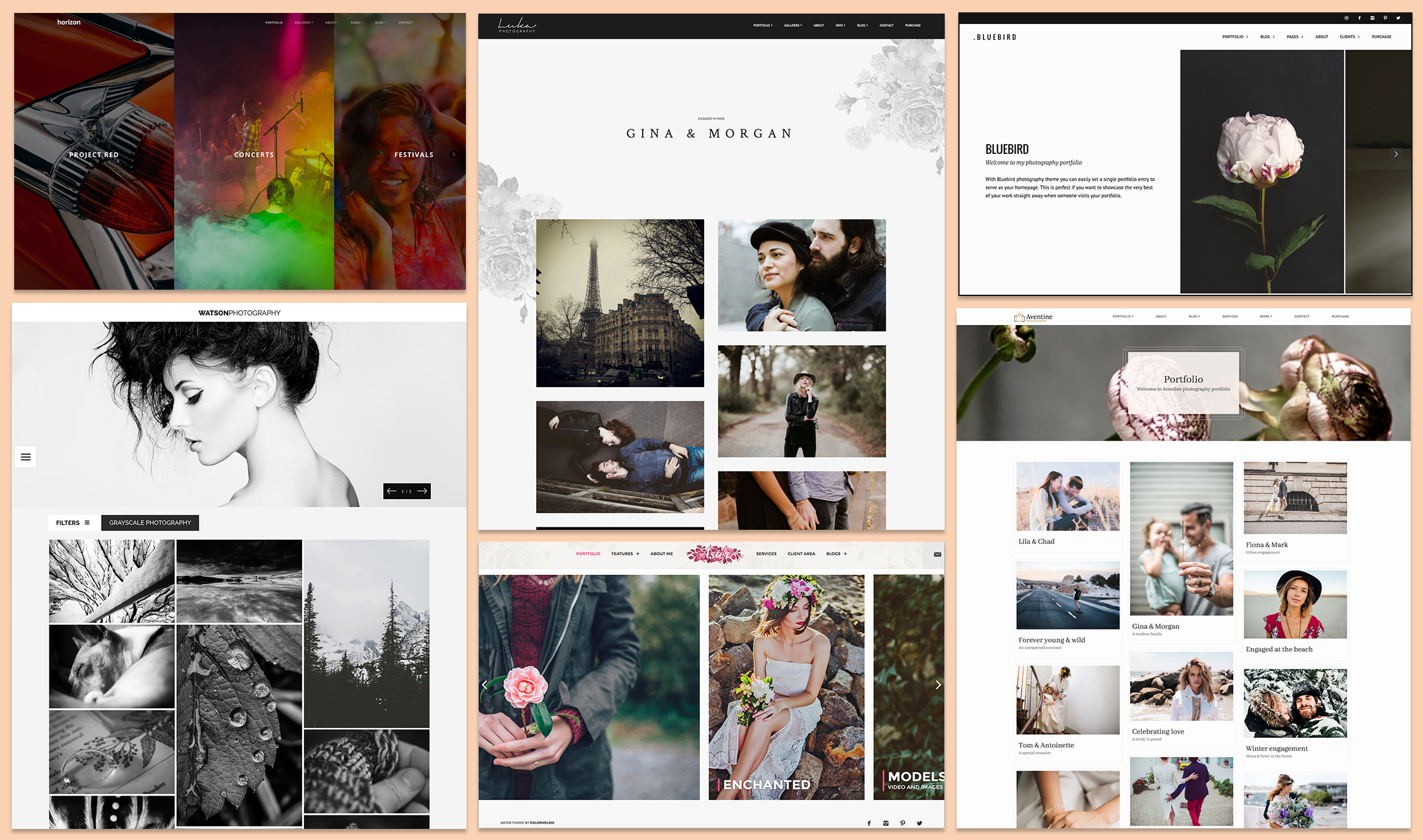 Can't spend any $$$ on your website right now? We got you covered – check out our tutorial where we show you how to create a professional, elegant, and free personal website using Easy Photography Portfolio pugin and a free WordPress theme!
Need help with this plugin?
If you have any questions about "Easy Photography Portfolio" plugin or are having trouble making something work properly, please go to THE OFFICIAL EPP SUPPORT FORUM.
Right now the comment area of this post is getting a bit crowded so I assure you that you will get your answers faster if you go to the forum instead. Thanks!